HEIDI'S PLACE GUESTHOUSE
HEIDI'S PLACE GUESTHOUSE
CONTACT DETAILS
Contact Person:
CARLA VENTER
Phone:
051-522 7067
Mobile:
081 767 2554

Fax:
086 527 3674
Address:
Heidi's Place, 48 Gustav Cres, Fichardt Park, Bloemfontein
E-mail:
info@heidisplace.co.za

Website:
www.heidisplace.co.za
Facilities

Bed and Breakfast

Swimming Pool

Satellite TV

WiFi

Bar Fridge

Microwave

Tea & Coffee facility

Air-conditioning

Braai facility

Safe Parking
Heidi's Place Guesthouse In Bloemfontein, Free State, Offers Bed & Breakfast And Self - Catering Accommodation
Heidi's Place Guest House has been in this business for over 10 years and is well known in the Free State. Our friendly staff will assist you in every way possible to make your stay as enjoyable and comfortable as possible. ..
Accommodation At Heidi's Place Guesthouse
All Heidi's Place Guest House rooms are on the ground floor with en-suite bathrooms and have been furnished for your comfort. The beds are made with clean linen every day and in the bathroom you'll find fluffy towels. Facilities in all rooms include: Bar-fridge, microwave, tea and coffee making facilities, air-conditioning, a TV with SABC 1, 2, 3, E-TV and 2 DSTV Channels you can choose from. We provide: safe parking, a swimming pool, braai area, Wifi internet hotspot and Laundry facilities.
RATES
Please note, you must pay a deposit of 50% and the balance on arrival. Parking and swimming is on own risk. Group bookings for 33 people can be made.
1 Person @ R 400 per room per night
2 Persons Sharing @ R 550 per room per night
3 Persons Sharing @ R 650 per room per night
4 Persons sharing @ R 750 per room per night
5 People in a room @ R850 per room per night
Children under 6 years stay for free
Extra mattress @ R 70
Breakfast @ R 70 per person (we only provide Breakfast)
The only Hi season is in October with the Macufe Festival then the tariffs is +/_ R1000 plus per person per night
Heidi's Place Guesthouse Is Situated Nearby:
Conveniently situated across the Rose Park Hospital Emergency entrance makes it easy to visit your loved ones in this Hospital.Heidi's Place Guest house is in a very tranquil area in Bloemfontein and close proximity to Universitas Hospital, Central University of Technology, Pick a Pay Hypermarket, Sand du Plessis Theatre, Hyperama,PasteurHospital,the Windmill Casino,N1 Highway and for those who like the history of South Africa (The Women's Memorial and the Anglo-Boer War Museum on the same terrain).
Directions To Heidi's Place Guesthouse In Bloemfontein
On the N1 South towards Cape Town from Johannesburg turn left on the Curie Drive off ramp the first robot turn left into Castelyn Drive, just past the Rose Park Life Hospital turn left into Gustav Crescent and you will find us on your right nr 48 HEIDI'S PLACE GUEST HOUSE.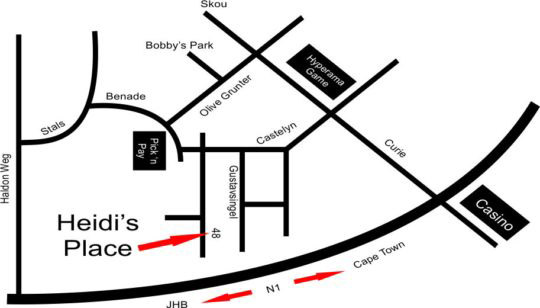 Connect With Us
LIKE US ON FACEBOOK:
| MAKE A BOOKING:

HEIDI'S PLACE GUESTHOUSE
CONTACT DETAILS
Contact Person:
CARLA VENTER
Phone:
051-522 7067
Mobile:
081 767 2554

Fax:
086 527 3674
Address:
Heidi's Place, 48 Gustav Cres, Fichardt Park, Bloemfontein
E-mail:
info@heidisplace.co.za

Website:
www.heidisplace.co.za
Facilities

Bed and Breakfast

Swimming Pool

Satellite TV

WiFi

Bar Fridge

Microwave

Tea & Coffee facility

Air-conditioning

Braai facility

Safe Parking